Posted by admin on December 6, 2013 in Uncategorized |
∞
Many Italian happenings in Cyprus this December, starting with film screening organized by the Italian embassy and some surprises on Rik 2 !
This time something different will take a place- best seller play "Letter to a child never born "  – a dialogue between a mother and her eventually miscarried child, based on the book of Oriana Fallaci will be played for one time only at Markideion Theatre of Paphos.
For more info visit the page of Cyprus events.
We remember the author, Oriana Fallaci,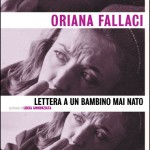 as an Italian journalist, political interviewer ( the most popular ones with Indira Gandhi, Willy Brandt, Shah of Iran Mohammad Reza Pahlavi, Muammar Gaddafi, Yasser Arafat and many others) and author of many books.