Outside of our classroom
We do things outside of our classroom too !
Make sure you check our Italian events in Cyprus and therefore join us!
Since we said we "attack" language from all side, hence we are organising different Italian events where we practise our Italian: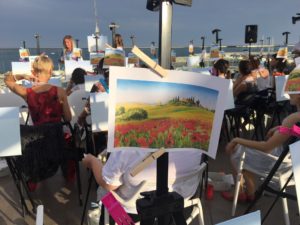 A beautiful evening organised by ART City Project on the roof of EXness in Limassol.
Theme:Toscana
The artists had a possibility to show the skills they have, while listening to jazz and sipping good Italian prosecco!
At Franco's 26th January, 2018- Italian Gourmet evening with Italian truffles
At Franco's
A group of Italian language students, with their teacher, who participated to the Italian Gourmet evening. The aim of the evening was to socialize with Italians and above all practice Italian.
Photo:
Kimberly, Julia, Alona, Marina, Jelena and Tatiana. Left Antonino Russo of the Italian Ship VOS Purpose, the Honorary Consul of Italy Dr Andreas Zenonos and the Captain of the Ship VOS Purpose
Having good time with excellent Italian food and wine. Hence many smiling faces all around!
We write to Babbo Natale!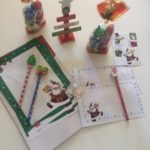 We go for trips – Facciamo i viaggi
Venezia, Verona
Sirmione, lago di Garda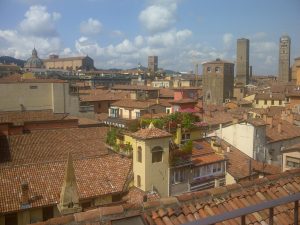 Bologna
Roma, Tivoli, Villa D' Este
San Marino
Perugia and we love cioccolato –Etruscan Chocohotel
We eat -Mangiamo gnam gnam!
La Sangiovesa, l'osteria, Santarcangelo di Romagna RN
Zucchero, Venezia, Piazza San Marco, luglio, 2018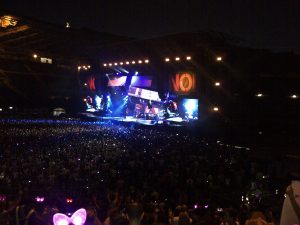 Eros Ramazzotti, Roma, giugno 2013
We do brunches! Kato Drys, l'estate 2015
We do aperitivo!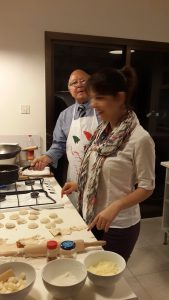 And Italian chefs are helping us too
We go to opera, we watch Italian movies!
We celebrate Il Natale!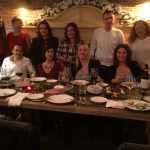 We go for trips, yes we love our trips! We visit old and discover new places!
Pompei, Ravello, Positano, Capri, Agosto 2016