Posted by admin on April 6, 2018 in Uncategorized |
∞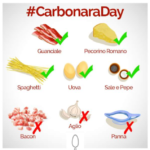 The 6th of April is the world day of Carbonara, the most famous italian dish.
The origins of  Carbonara?
There are a number of hypotheses about the origins of carbonara…
The most probably but least verifiable is that the dish came out of the gastronomic traditions of Apennine charcoal makers (carbonari in Rome dialect) who would prepare themselves a filling meal using readily available and easy to preserve ingredients. Carbonara in this case would be the evolution of a historic cheese and egg dish from across Lazio and Abruzzo.
A second hypothesis leads to Neapolitan cuisine and the first accredited documentation of the recipe by Ippolito Cavalcanti in the Treaty of 1837 while a final suggestion is that it was Ancel Keys, the 'inventor' of the Mediterranean Diet, who created a dish of egg yolk powder and bacon with spaghetti to increase the level of carbohydrates of the US soldiers during the war effort in Italy in 1942. Perhaps true but by no means the first carbonara.
So what exactly is Carbonara?
We all love carbonara but how should it be made. Pancetta or Guanciale. Spaghetti or Bucatinai pasta. Pecorino or Pamigiano cheese. And the egg? Only the yolk or the white as well. Garlic and onions?
For purists only 5 ingredients count: bacon, cheese, egg, salt and pepper. If you think you can add anything else then think again. Not even olive oil is allowed as well cut bacon (guanciale to be precise) will melt and provide enough liquid during the cooking process.