Posted by admin on June 12, 2018 in Uncategorized |
∞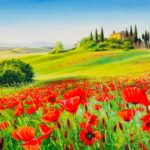 June 16, Saturday at 18-00
in Limassol???New CITY format ART & JAZZ!On the most chic area of ​​the city – EXNESS ROOF TOP!
EVENING PROGRAM:
? JAZZ CONCERT
? FURSHET
? DRAW together with the artist (oil on canvas)
? BODY ART PERFOMANCE for non-visitors (husbands and friends)
The picture "SUNNY TUSCANY" loads with a positive, will decorate any interior and at the same time is very simple in execution!
We work on the system "All inclusive", the ticket price includes:
✅ Concert ???
✅ Cocktail – light snacks, cheese, fruit, drinks ???
✅ Canvas 30×40, oil, brushes, apron and everything that is necessary for creativity ? ??
? UNIQUE METHODS
Are you not sure what you will get?
Do not doubt! We use unique techniques that allow EVERYONE to discover their creativity in 3 hours!
In addition, in the studio with you will work professional artists with a great teaching experience. They will help you. You will leave classes with a beautiful picture written in your own hand!
Great result and wonderful mood GUARANTEED!
❓What do I need to bring with myself?
With you take nothing. Paints, brushes, canvases, an apron and everything that is necessary for creativity, will be prepared in the studio and ENTER THE PRICE OF THE TICKET!
❓How to get?
✅ 1. To start, you need to BUY TICKET or the reservation place.
Tickets in the store "EPL. YAKUTS DIAMONDS "at the intersection of the streets Anexartisias and Themidos 19, Limassol
Valid SHIPPING from 2 tickets!
We ask you to do this in advance, knowing that you will come to us, we will prepare in advance an easel, canvas, paint, brushes, apron and everything that is necessary for you to receive the maximum benefit and pleasure from the lessons! ?
✅ 2. At the specified time you come to the address: 1 Siafi PortoBello, Limassol
Entrance to the building from the side of the road, office center Porto Bello, on the elevator to the 5th floor
and 3 hours enjoy your creativity, jazz and your success!
❓THE FULL TICKET?
❤ VIP ticket 80 Euro – a large canvas, 1 row, the personal assistance of the artist!
❤ Price 55 euros drawing ticket All inclusive ???
❤ The cost of 25 euros is a non-decorative ticket (includes a buffet with drinks, a concert, a show of the artist Body Art) ??
DOES IT NEED NERVICE TICKETS?
Husbands, friends and other people doubting their talents, BUT VERY willing to participate in the event!
☎ OUR CONTACTS:
We are always ready to answer your questions by phone: + (357) 9984-00-50
Send SMS with your name and number of tickets!
3 hours and you are a happy, rested person with a picture that you yourself wrote!
P.S. Italian Cyprus will be there 🙂