Posted by admin on June 28, 2018 in Uncategorized |
∞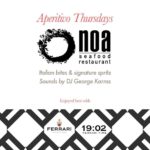 Phiale Wines and Noa Seafood Restaurant in Limassol are back to organise Aperitivo Thursdays! See you tonight for the weekly Aperitivo!
19:02 Ferrari Time! Ferrari Trento NOA Beach Seafood Restaurant
Do you know why 19:02 is Ferrari time?
Ferrari, founded in 1902, represents the Italian art of living worldwide with its #Trentodoc #sparkling wines, created using the traditional method.