Posted by admin on September 29, 2018 in Uncategorized |
∞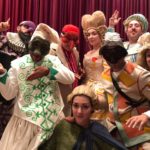 The Italian play "The servant of two masters" (Il Servitore di Due Padroni) by Carlo Goldoni at Kypria International Festival with the support of the Italian Embassy. Written in 1746 "The Servant of Two Masters" by Carlo Osvaldo Goldoni (1707 – 1793) is one of his best-known works. It has been translated and adapted internationally numerous times. Still remains a fine example of its genre, the 18th century Italian Comedy- Commedia dell'arte!
2 & 3 October: Strovolos Municipal Theatre, Nicosia 20.30
4 October: Markideio Municipal Theatre, Paphos 20.30
5 October: Municipal Theatre, Larnaca 20.30
8 & 9 October: Rialto Theatre, Limassol 20.30
As one of the most important representatives of "humanist theatre", Goldoni explores through his work the human relationships and moral values related to logic and the "civilised human". He condemns arrogance, intolerance, the abuse of power and the moral decay of a society which is based on hypocrisy and corruption.
Goldoni often combines the strengths and the energetic stock characters of Commedia dell'arte with his own wit and sincerity in order to create his unique comic style. "The Servant of Two Masters" is a caustic satire about love, passion, and the pursuit of happiness, but also about everyday survival.
Direction: Adonis Florides
Starring: Andreas Vasiliou, Andreas Makris, Elias Andreou, Polyxeni Savva et al./Cyprus
Kypria International Festival 2018
Tickets: €10, €5 (Students, Senior Citizens, National Guard)
Tickets available at www.soldouttickets.com.cy
In selected SO EASY KIOSKS all over Cyprus
Paphos Time Out Kiosk
Paralimni In N' Out Kiosk