Posted by admin on October 30, 2018 in Uncategorized |
∞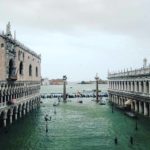 Exceptional high tide yesterday in Venice.
70% of the city flooded. The level of water went up to 156 cm (more than 5 feet).          It unbelievable how fragile is this incredible city!
Three-quarters of the lagoon city of Venice was under water Monday as large swathes of Italy continued to be battered by severe storms.
Tourists and residents of Venice donned high boots to navigate the city streets after strong winds raised the water level over 5 feet before receding. The water exceeded the raised walkways normally put out in flooded areas in Venice, forcing their removal. Transport officials closed the water bus system except to outlying islands because of the emergency.
Venice frequently floods when high winds push in water from the lagoon, but Monday's levels were exceptional. The peak level was the highest reached since December 2008, according to Venice statistics.