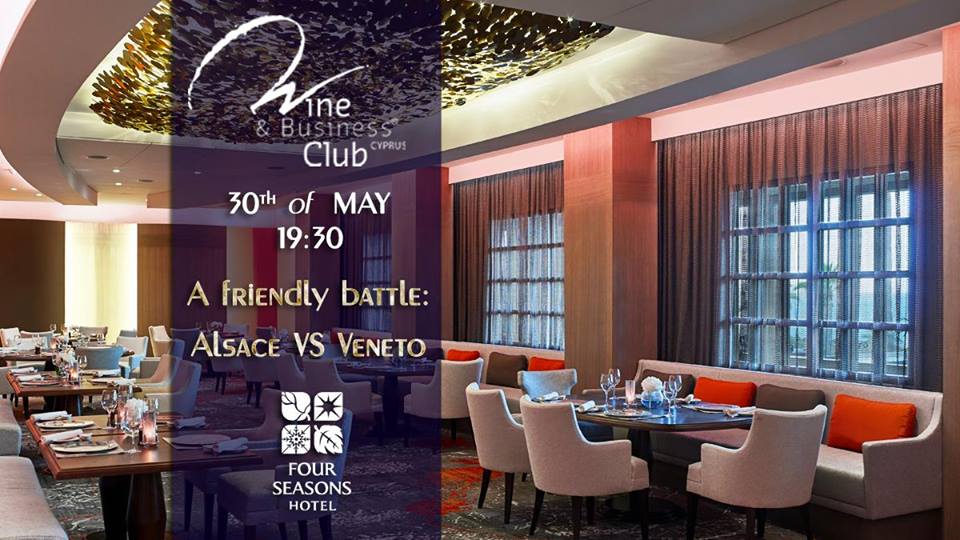 The Wine & Business Club Cyprus will be having a Big Event on the 30th of May 2019, where a dinner will be held at the Four Seasons Hotel in Limassol which will consist of: A friendly battle: Alsace VS Veneto !
More than 14 beautiful wines will be tasted
A great selection of wines from Joseph Cattin Alsace and Monte Del Frà Veneto perfect paired with an exceptional menu:

Aperitif
Whisky Bastille
Joseph Cattin Crémant d'Alsace Brut, Crémant Brut Rosé, Monte Del Fra Garganega
•••
Sea Bass Ceviche, Avocado, Apple and Mango
Joseph Cattin Riesling 2018 VS (2) Monte Del Fra Custoza 2018
***
Seafood Ravioli, Celeriac, crispy Fennel, Langoustine Bisque
(3) Joseph Cattin Pinot Noir rosé 2017 VS (4) Monte Del Fra Bardolino Chiaretto rosé 2018
•••
Roasted Duck Breast and Duck Leg Confit Cannelloni, Carrots, Duck Jus flavoured with Star Anis
(5) Joseph Cattin Pinot Noir red 2016 VS (6) Monte Del Fra Bardolino red 2018
And mystery wines (7-8)
•••
24 months Parmigiano Reggiano, Munster cheese
(9) Joseph Cattin Pinot Gris 2017 VS (10) Monte Del Fra Amarone Riserva Scarnocchio 2013
•••
Crunchy Meringue, Vanilla Pana Cotta, marinated Strawberries and wild Berries
(11) Joseph Cattin Gewurztraminer 2017 VS (12) Monte Del Fra Recioto della Valpolicella 2013
•••
Coffee & Petit Fours
In order to participate, you will need to be a member of the club and pay €130/pp for the dinner all beverages included. If you are interested in being a part of this fantastic evening, please contact below:
Christophe Chaillou
Phone: +357 25 327 446 – Monday – Saturday 09:00 – 21:00
Mobile : +357 99 599 460
Mail: christophe@winebusinessclubcyprus.com
Website: https://winebusinessclub.com/
Some small details about the producers:
Joseph Cattin:
Maison Joseph Cattin, an independent and family-owned winery united for 300 years, has been dedicated to developing the originality of the soils to the richness of the grape varieties in order to give birth to a noble and elegant collection of Alsace wines. An authentic representative of the Alsatian vineyard, Joseph Cattin Winery offers a wide range of Alsace wines including AOC Alsace, AOC Alsace Grand Cru, a large variety of Crémants d'Alsace as well as spirits (Eaux de Vie from Alsace).
In 2007, Jacques Junior, joined the company after having studied engineering in agronomy and winemaking. In collaboration with his father, Jacques Cattin Senior, Jacques junior took charge of the wine-making and the financial department. His wife, Anaïs, graduated from a prestigious business school, and with strong experience toward international commerce, she joined the company in 2012. She is currently responsible for the international sales department.
Monte del Frà translates as "Hill of Monks" and is located in the heart of the Bianco di Custoza DOC. It now consists of over 65 hectares of vineyards is owned and run by brothers Eligio and Claudio Bonomo. It is one of the most progressive and dynamic producers in the region and has been particularly innovative in its adoption of modern viticultural techniques.
Eligio Bonomo was the first producer in the region to retrain the traditionally 1.6m high cordon vines to lower-trained, single guyot systems. In the winery the Bonomos use thoroughly modern, clean and temperature-controlled fermentation and storage facilities in order to preserve the aromatic freshness in their wines. They produce very good-quality wines which are clean, display excellent purity of fruit and are elegant and well balanced. With 55 year-old indigenous/native vines from Custoza in Verona region, the Bonomo family's winery is currently run by the 3rd generation of winemakers. They combine tradition and ancient estate wines with modern winemaking technology.
Located in Verona area of Italy, Monte del Frà is a family business started in 1958 by the brothers Claudio and Eligio Bonomo. High quality and excellent prices is a prerogative of this family today well known on reviews and by critics as one of the most representative of the Verona area.
In between Garda Lake and Valpolicella classica, the family manage today an area of 200 ha, Claudio as winemaker and Eligio as expert agronomist still work in the winery together with the sons Massimo (winemaker), Marica (export manager) and Silvia (hospitality manager). The farm is a modern winemaking cooperative with magnificent barrel, fruit and wine storage facilities. The dynamic Marica is a worthy ambassador for her wines.