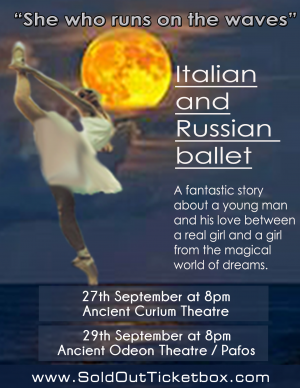 A fantastic story about a young man and his love between a real girl and a girl from the magical world of dreams.
The ballet "Running on the Waves" is inspired by the wonderful fantasy story of Alexander Green, with music by Schubert, Shestakovich, and Schnittke.
Where: Curium Ancient Theater
When: Friday, September 27th, 2019
The story of the eternal aspiration of man to a new, unknown world and about the love that calls for him.
Performers: young talents – ballet Naples / Italy / and ballet Grigorovich / Russia.
The duration of the ballet is one hour and ten minutes without intermission.
Information by phone: 99987217
Tickets:
€25 – ordinary,
€15 – for pensioners, for ballet students, and for disabled,
€5 Euro – for children under 12
Tickets are available at So Easy Kiosks and online at www.soldoutticketbox.com