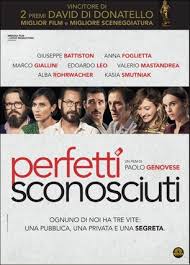 ? Italian Film Days 2019 ?? in Rialto Theatre, in Limassol!
On Saturday 14th September will be screened two films: La pelle dell'orso at 7 p.m. and Perfetti sconosciuti at 9 p.m. During the special closing night on September 15 will be screened film Un Figlio a Tutti i Costi (A Child at all Costs).
Director/actor Fabio Gravina and producer/screenwriter Salvatore Scarico will personally introduce the movie. That same evening, based on the public's ratings, the most liked film of the festival will be announced.
Perfetti sconosciuti
During a dinner party, seven friends decide to play a dangerous game. The attendees place their cellphones on the table and agree to make all texts and calls public in an attempt to prove that they have nothing to hide.
Release: February 11, 2016 (Italy)
Director: Paolo Genovese
Language: Italian
Nominations: David di Donatello for Best Actress,
Awards: David di Donatello for Best Film.
La pelle d'orso
A down-and-out dad and his introverted son live together in a small Italian village, however, they become increasingly estranged. Yet, when the father goes out to hunt a bear, his son follows, and they share a profound experience.
Release: November 3, 2016 (Italy)
Director: Marco Segato
Music composed by: Fulvio Mennella – Andrea Felli
Screenplay: Marco Segato, Marco Paolini, Enzo Monteleone
Nominations: David di Donatello for Best New Director
Un Figlio a Tutti i Costi
A couple strongly desires a child but is unable to conceive. The husband, stressed and exhausted by the stubbornness of his wife, suggests adoption, but she has an alternative ready: another man will give her the child, but not with artificial insemination…
Director: Fabio Gravina
Duration: 90 min.
Genre: Comedy
Year: 2018
Actors: Fabio Gravina, Roberta Garzia, Maurizio Mattioli, Gianni Ciardo, Paola Riolo, Stefano Masciarelli, Emanuela Titocchia, N'Duccio, Beppe Convertini, Angelo Di Gennaro, Gino Cogliandro