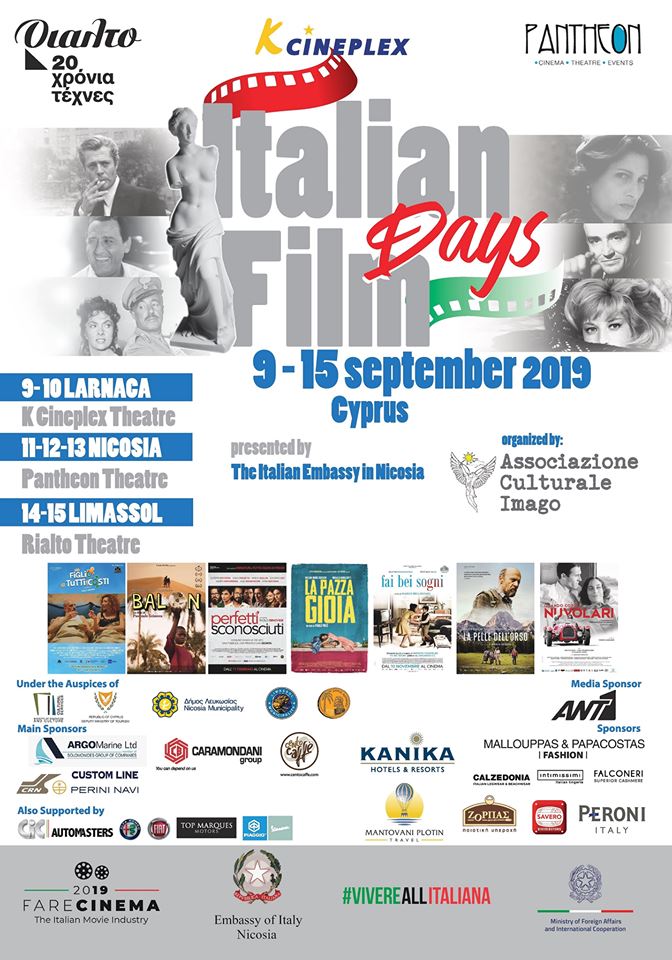 For the second time in Cyprus – Italian film Days, this time in Nicosia, Limassol and Larnaca!!! Don't miss the Italian Film Days 2019 from 9th to 15th of September!
 ? ?? ? ?? ? ?? ? ??
This year's edition has been expanded with more films, more locations and full subtitles in Greek and in English.
Screenings will take place in Larnaca, Nicosia and Limassol, in partnership with K-Cineplex, Pantheon and Rialto theaters, with free admittance. The Festival Director, Claudio Rossi Massimi, a filmmaker himself, has prepared introductions for each of the films.
Italian Film Days are back! From September 9th to 15th 2019 the Italian Embassy, in cooperation with the Italian film production company IMAGO Film Group, is presenting for the second consecutive year a Festival of Italian movies, among the best in their respective genres.
https://ambnicosia.esteri.it/ambasciata_nicosia/it/ambasciata/news/dall-ambasciata/2019/08/italian-film-days-2019.html