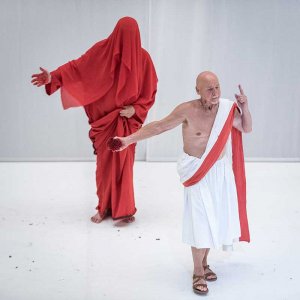 The celebrated Italian author and director Romeo Castellucci comes to Cyprus for the first time, within the framework of the 'Kypria' International Festival 2019. The performance- dramatic intervention Julius Caesar was first staged in Bologna, in March 2014, as part of the tribute to the director entitled "And the Fox said to the Crow: a lesson in general linguistics".
When: 1st, 2nd and 3rd October, 2019
Where: Nicosia Municipal Arts Centre
Cost: €12 / €6
It consists of a condensation of the emblematic performance Julius Caesar, staged in 1997, one of the most groundbreaking and subversive art creations of the Socìetas Raffaello Sanzio.
Credits:
A controversial performance by Romeo Castellucci with Julius Caesar: Gianni Plazzi, Mark Antony: Nicola Frangione, …vskji: Sergio Scarlatella
Assistant Director: Silvano Voltolina
Sound Technician: Nicola Ratti
Photographs by: Dawid Linkowski, Guido Mencari, Mario Zamora Morillas
45' WITHOUT INTERVAL
Kypria International Festival 2019
Tickets: www.tickethour.com.cy & ACS Couriers.