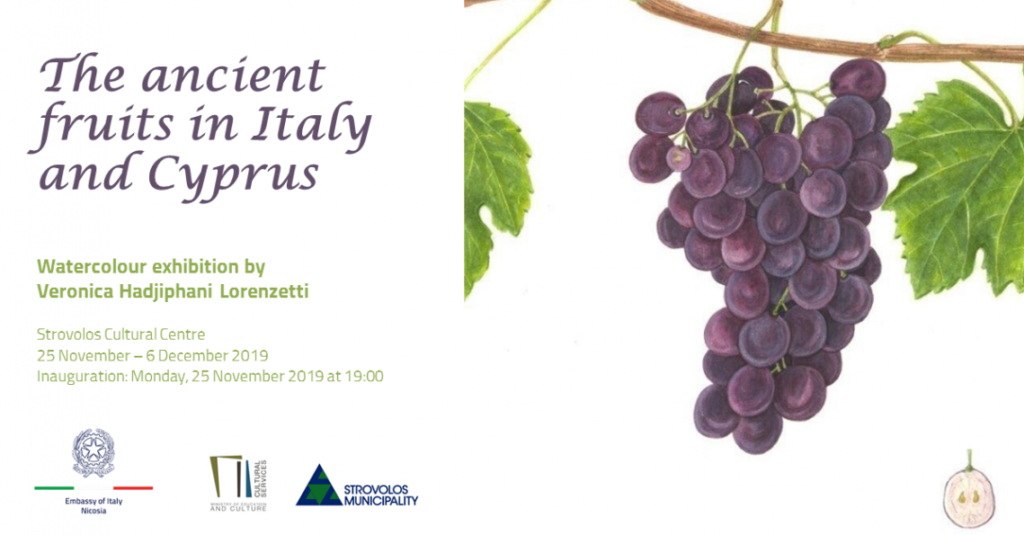 Watercolours Exhibition by Veronica Hadjiphani Lorenzetti "The Ancient Fruits in Italy and Cyprus".
Where: Strovolos Cultural Center, Nicosia
When: From 25 November to 6 December
The exhibition is part of the program of events held in Cyprus for the Week of Italian Cuisine in the World. On November 25th and 26th, the tasting of ice creams and artisan sorbets made by the master gelato master Lorenza Bernini, from Lolla Gelato, will be performed, freshly prepared with tastes freely inspired by the fruits illustrated by Veronica Hadjiphani Lorenzetti.
Veronica Hadjiphani Lorenzetti, a Cypriot and Italian citizen, studied drawing at Coventry University, formerly Lancester Polytechnic, and since 1971 she has been a freelance professional in the advertising and publishing fields in Milan and Rome. Since 1992 he has mainly devoted herself to naturalistic-botanical design accompanied by related cognitive research. She lives in Italy and works throughout Europe.
Lorenza Bernini, after her PhD in Science for Cultural Heritage at the University of Florence, from 2016 decides to devote herself entirely to the production of artisan ice cream from fresh and selected raw materials. Its ice cream shop in Bolsena (Viterbo) is considered among the best 100 ice cream parlors in Italy and among the 15 best emerging. In 2018 and 2019 he received the distinction "Due Coni" from the Italian Gambero Rosso Ice Cream Guide.
Strovolos Cultural Center, Nicosia
25 November – 6 December 2019
Opening November 25th at 7:00 pm
Tastings on November 25th after the inauguration and November 26th at 17.00