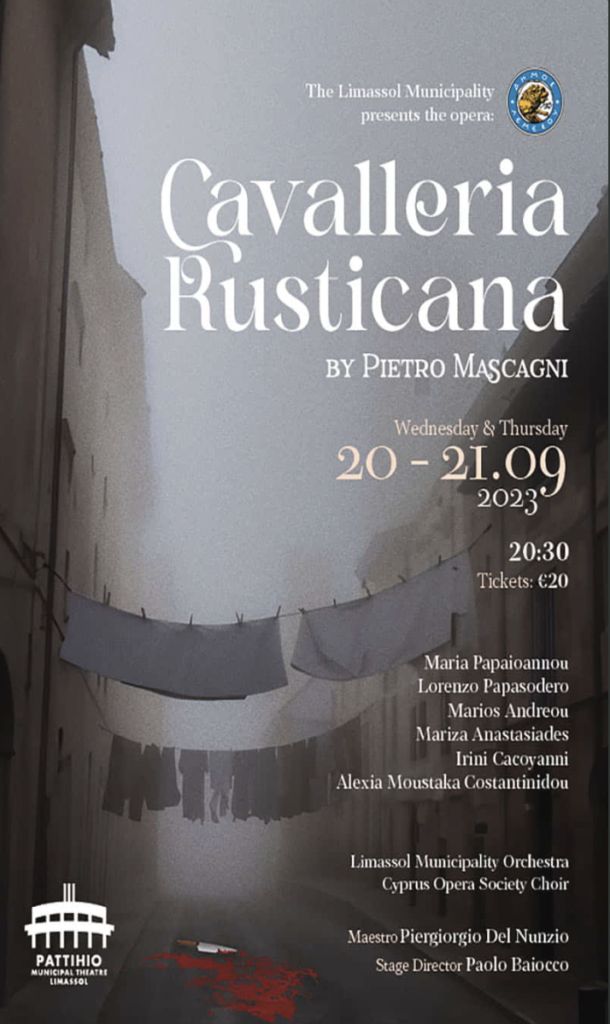 Pietro Mascagni's opera CAVALLERIA RUSTICANA, is located in Sicily, but has all the ingredients to be a story naturally located in Cyprus: passion, love, jealousy and death.
All the opera will be performed with orchestra and choir, and all the roles, Santuzza, Turiddu, Alfio, Mamma Lucia and Lola, but this version will be richer: an actress in the role of Rosalia, a friend of Santuzza and Turiddu, will tell the audience what happened in the past, how the situation developed in so tragic way, and other details that are not in the opera's libretto, speaking the Greek language; so the audience will be guided in the drama, to understand what is not openly shown and said.
All the cast is Cypriot, with the only exception of the tenor, in the main role of Turiddu, the Italian tenor, Lorenzo Papasodero: the soprano in the main role of Santuzza is the Cypriot Maria Papaioannou, who sung all over Europe and in America. The chorus is Cypriot, the actress Cypriot, and all the technical team is Cypriot.
The Conductor, the Italian Maestro Piergiorgio Del Nunzio, with big experience in Opera and an important international career, will direct the Cypriot orchestra.
Stage Director is the Italian Paolo Baiocco, who directed Operas all over the world.
Where: Pattihio Theatre Limassolhttps://www.pattihio.com.cy/
When : 20 – 21/09/2023