Posted by admin on June 20, 2018 in Uncategorized |
∞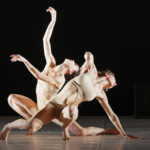 Italy participates in the 21st Cyprus Contemporary Dance Festivalwith the performance GISELLE by the Balletto di Roma on Friday 22 June 2018, 20:30, at Rialto Theatre – Θέατρο Ριάλτο in Limassol, Cyprus ! Join the Ambasciata d' Italia a Nicosia – Embassy of Italy in Nicosia for an "Italian Village" event outside the Theatre, prior to the performance, from 19:30 to 20:30 Tickets: www.rialto.com.cy
One hundred and seventy-five years have passed since the première of Giselle, a masterpiece of romantic classical ballet created for the Parisian debut of Italian ballerina Carlotta Grisi. Since then, Giselle has continued to evolve with such continuity that theatre audiences of the 21st 21st century can no longer expect an emblematic performance of 19th 19th century European classical ballet: Giselle has assumed a global citizenship; Giselle has its roots embedded in the present.
Balletto di Roma does not merely present a new version of the traditional story of Giselle. Instead, the new Giselle offers a profound exploration of the madness of a young girl betrayed by her lover and the sepulchral result of her suffering in the underworld. By deconstructing Théophile Gautier's libretto, the piece explores the possibilities offered to bodies and sensitivities of the present.
This international production by Balletto di Roma is the result of partnership between Liquid Loft, Operaestate Festival and Civitanova Danza.
Amsterdam resident Itamar Serussi Sahar (Israel, 1978) began his dance training at the age of een at the Israel Arts High School and School of Bat-Dor Dance Company. Itamar's choreographies are striking both for the audience and for the performers and are regularly performed across Europe. Since 2014, he has been the resident choreographer of Scapino Ballet (Rotterdam, NL).
Austrian choreographer Chris Haring has been the artistic director of Liquid Lo since 2005. He choreographed performances such as Kind of Heroes, Running Sushi, Talking Head and The Perfect Garden series. In 2010 he received the "Oustanding Artists Award" for performing arts by the Austrian Federal Ministry for Culture (BMUKK).
Choreography: Chris Haring, Itamar Serussi Sahar
Concept: Peggy Olislaegers
Original Music: Adolphe Adam Musical
Re-working: Richard Van Kruysdijk, Andreas Berger
With the Dancers of Balleto Di Roma
Duration: 90'
Embassy of Italy: 22357615
Organisers: Ministry of Education and Culture – Rialto Theatre, with the collaboration of the embassies and cultural centres of the participant countries.
In collaboration: Limassol Municipality, Nicosia Municipality, Dance House Lemesos
Media Sponsors: Fileleftheros, Φιλgood*, Αctive 107.4 & 102.5 & Cybc
Supported by: Eventpro, Limassol Tourist Board, Lemesos Newspaper
Tickets € 5 Ι Festival Pass € 20
Free admission for pupils, students, soldiers, pensioners and dance professionals
Free bus from Nicosia. Departure at 19:00 from the Cyprus Handicraft Centre (Athalassa Avenue). Information: 99420642
ItalianCyprus will be there! Join us!